Fentanyl Detox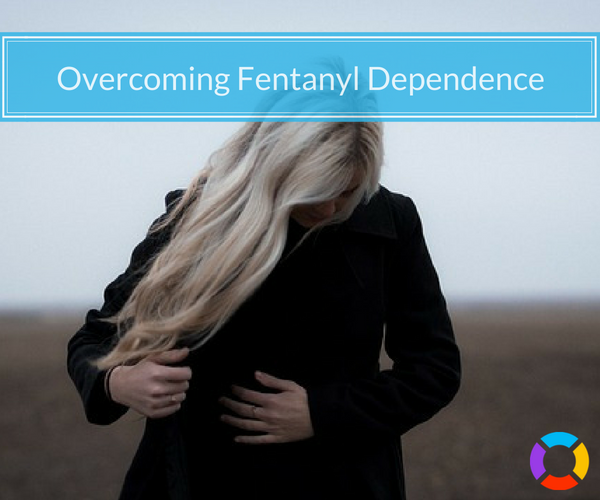 Fentanyl is an extremely potent opioid drug that is only meant to treat individuals who require intensive pain relief. Unfortunately, many individuals abuse fentanyl, especially as a substitute for heroin, and this abuse can lead to a number of problems, including addiction and overdose. However, anyone who takes fentanyl regularly and often is likely to experience dependence on the drug, which can lead to withdrawal symptoms if the individual is suddenly unable to obtain more. Fentanyl detox is the necessary treatment for fentanyl dependence, and those who require this program MUST seek professional care. Attempting to detox from fentanyl at home is unsafe and ineffective, and in many cases, will only lead to relapse. This is why seeking professional treatment in local fentanyl detox centers is so crucial to a safe recovery.
If you or someone you love is struggling with fentanyl withdrawal, dependence, or addiction, call 866-351-3840(Who Answers?) today and find a treatment program that meets your needs.
Understanding Fentanyl Detox
It is important to understand why fentanyl dependence occurs so you can begin to recover from this issue.
Fentanyl is a powerful, synthetic opioid drug, according to the National Institute on Drug Abuse. It is a Schedule II substance because it can still be prescribed safely under a doctor's supervision, but unfortunately, many people like to abuse it. It is extremely potent, which is why many individuals use it as a heroin substitute, but because it is 50 times stronger than heroin, many do not realize how dangerous this type of substitution is.
Anyone who takes fentanyl regularly can become dependent on the drug. Opioids change the way the brain works over time, making it difficult for the brain to cope with pain and other issues once it starts to rely heavily on these drugs. Finally, if the drug suddenly becomes unavailable, the individual experiences severe withdrawal symptoms because the brain and body can no longer cope without the drug.
Fentanyl detox is an option for one's safe recovery from fentanyl dependence. It allows patients to slowly be weaned off the drug or to be treated with and/or stabilized by medications during withdrawal. Whatever type of fentanyl detox program you choose, however, remember that it is unsafe to go through this process without professional care. Also, as stated by the Substance Abuse and Mental Health Services Administration, those who are grappling with fentanyl addiction will require rehab after this program, since detox alone is only one part of addiction treatment.
Fentanyl Withdrawal Symptoms
There are many different symptoms associated with fentanyl withdrawal. This syndrome is extremely intense and can be very uncomfortable, even painful. Because fentanyl is such a potent opioid, many people relapse back to abusing the drug just to make these symptoms stop.
According to the National Library of Medicine, fentanyl is not prescribed for use in patients who are not already dependent on opioids, and doctors do try to prescribe this medication only when patients need it to avoid dependence. However, a person can still become dependent on this drug, and if they stop taking it, will experience symptoms like
Nausea
Vomiting
Diarrhea
Insomnia
Symptoms similar to the flu, including sneezing, runny nose, tearing eyes, hot flashes, and chills
Pain is another intense symptom of fentanyl withdrawal. Many people feel pain in their muscles, joints, and bones during this time. In addition, some psychological symptoms are likely to occur as well, such as anxiety, depression, and agitation.
No one should have to experience these symptoms without help. You can call 866-351-3840(Who Answers?) today to ensure that you or your loved one is able to get the treatment necessary to minimize these symptoms in safe, effective fentanyl detox centers.
Cause of Fentanyl Withdrawal
Fentanyl withdrawal occurs when a person becomes dependent on the drug and then can no longer obtain any more. Sometimes this happens when a prescription runs out or when the individual has been abusing the drug and cannot get any more of it. Whatever the reason for your fentanyl dependence, it is important to seek help for this issue.
Addiction and dependence are not the same thing. According to the NIDA, the thalamus and brainstem are the parts of the brain that are associated with dependence. This is why a person can become dependent on a drug when they are not addicted to it. However, if a person becomes addicted they are likely to also be dependent. This is because those who become addicted will have been abusing the drug regularly and often, usually in large doses.
Dependence can happen to anyone who is exposed to fentanyl regularly, even babies in the womb. This can cause a serious version of opioid withdrawal called neonatal abstinence syndrome.
Having a better understanding of withdrawal and dependence can help prepare you for fentanyl detox, as well as for choosing the right detox program for your needs.
How Long Will Fentanyl Detox Take?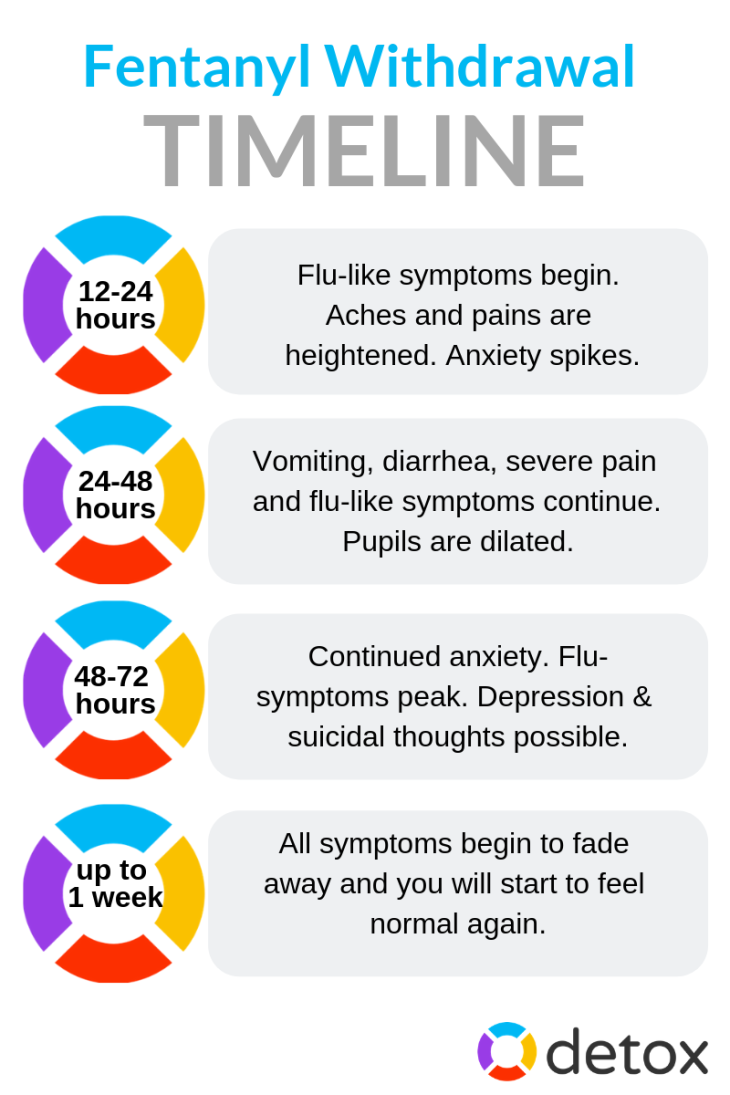 Fentanyl detox can take different amounts of time depending on the program you choose, the severity of your dependence, and a number of other variables. In general, medical detox takes about a week or so. This is the type of detox program that allows patients to go through the stages of withdrawal and treats the symptoms as patients experience them.
The stages of fentanyl withdrawal are listed below.
Stage One
Stage one usually involves severe pain, flu-like symptoms, and anxiety.  These symptoms can last for 1 to 3 days.
Stage Two
Nausea and vomiting, diarrhea,  and continued symptoms from stage one are often experienced during this stage. These symptoms last for 2 to 5 days.
Stage Three
During stage three, milder symptoms occur as withdrawal begins to subside. This generally lasts for 1 to 3 days.
Depending on the drug that was abused, opioid withdrawal starts to occur 6 to 12 hours after the last dosage (NLM). In medical detox, patients experience these symptoms in a milder way (and sometimes not at all) because they are treated as they occur. However, different types of detox cause different timelines.
Ultra-rapid detox
Ultra-rapid detox can occur in as little as one day. Patients are sedated, withdrawal is triggered with an antagonist, and the symptoms are treated with medications.
Rapid detox
Rapid detox is the same general idea, although it takes place usually over 2 to 4 days.
Medical detox
Medical detox follows the timeline described above. Usually, fentanyl detox takes about a week and a half, and patients are treated for their symptoms as they occur.
Medication-assisted treatment
Patients are given medications that are used to stabilize them so they will not experience withdrawal. According to the Substance Abuse & Mental Health Services Administration, the most commonly used medications for opioid detox are methadone, buprenorphine, and Naltrexone. The stabilization process may take a few weeks. After this, patients and their doctors can determine if the individual will be weaned off the drug or will stay on it indefinitely.
Tapering
Tapering is an option for individuals who were dependent on the drug only, not those who are addicted to it. It involves a slow tapering off of the drug, which usually takes a month or so.
These different types of fentanyl detox programs have other variables aside from their timelines. If you would like to learn more, call 866-351-3840(Who Answers?) now.
Are There Dangers?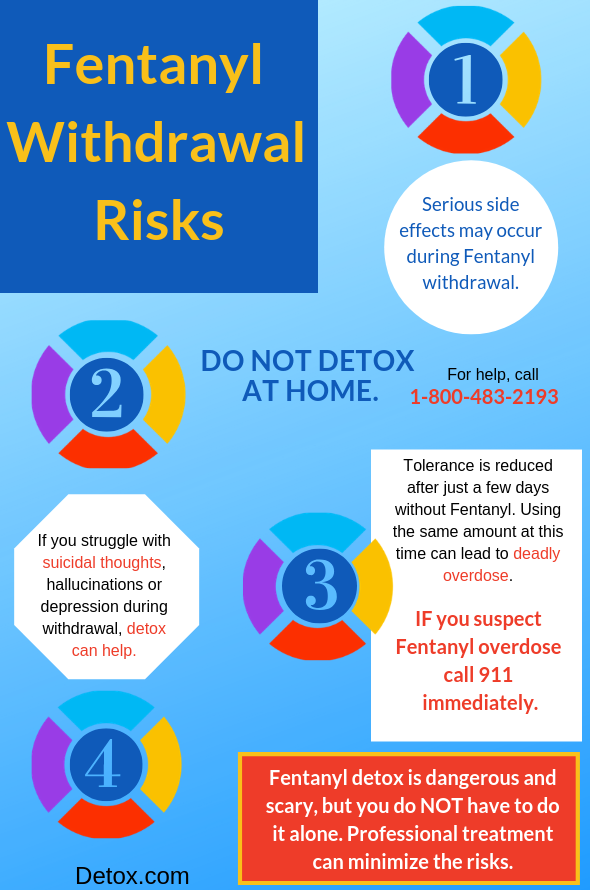 Unfortunately, there are many dangers associated with fentanyl detox, which is why dependent individuals are urged to go through the process under a doctor's supervision. It is extremely dangerous to try to go through opioid detox at home because certain serious side effects may occur, such as
Agitation or restlessness
Severe anxiety
Severe depression
Suicidal thoughts
Irritability and anger
Dehydration
Anorexia
Malnutrition
Relapse
Relapse is the most dangerous potential side effect that occurs during and after detox. When a person has gone through fentanyl withdrawal, their tolerance for the drug becomes diminished. However, if they relapse, they will abuse the same amount they always did, often leading to a severe overdose and even death. Being able to protect someone from this issue at home is often difficult.
Sadly, even individuals who seek the proper treatment sometimes relapse. According to a study in the Irish Medical Journal, 91 percent of the surveyed individuals relapsed after attending inpatient opioid detox. This issue is often associated with a failure to seek aftercare. As a result, it is always important to seek the proper dependence and addiction treatment and to ALWAYS follow detox treatment with rehab.
What Treatment Options Are Available for Withdrawal?
The treatment options available for fentanyl detox are fairly similar to those provided to all types of opioid-dependent individuals. Below are some of the most commonly used treatment options for fentanyl withdrawal.
Methadone
Methadone is a strong opioid agonist medication that is used to treat withdrawal, minimize cravings, and stabilize the patient. This option can be found in medical detox centers as well as medication-assisted detox. According to the National Institute of Justice, detox centers must be approved to dispense methadone by the government, as this drug is very strong and has a high abuse potential.
Buprenorphine
Buprenorphine is a partial opioid agonist-antagonist. It is used much in the same way as methadone and is sometimes marketed with naloxone (as the brand name drug Suboxone) to further minimize abuse potential. This drug is not always strong enough to treat dependence on a drug as strong as fentanyl, but some individuals may find it helpful. Detox centers must also be certified by the government to use buprenorphine as a fentanyl detox treatment.
Clonidine
Clonidine is not an opioid but an anti-hypertensive agent. However, the drug can still treat a number of withdrawal symptoms associated with fentanyl, including flu-like symptoms, pain, and diarrhea. The drug cannot treat cravings, which is why it is often used in medical detox for those who are not addicted to fentanyl. Clonidine also cannot treat nausea and vomiting so another drug must often be administered in addition to it (NLM).
Cognitive-behavioral therapy
This therapeutic program is often used during detox to help ease patients in to the transition from detox to addiction treatment. It helps individuals identify dangerous behaviors and attitudes and build better coping skills for the future. Other behavioral therapies—like 12-step facilitation therapy or contingency management—may also be used during detox.
These treatment options are available at most detox programs, although not all. There are many different fentanyl detox programs for those who are struggling with this type of substance dependence. Some of these are listed above, including
Ultra-rapid detox
Rapid detox
Medical detox
Medication-assisted detox
In addition, there are other options when it comes to fentanyl detox centers, such as
Holistic detox
These programs provide holistic treatment options to patients that go beyond the evidence-based practices associated with opioid dependence treatment.
Spiritual detox
These programs offer spiritual guidance for those who find comfort in these teachings during detox.
Non-medical detox
These programs do not offer medications as part of opioid detox treatment.
Choosing the right type of program can be difficult. In general, medical detox is a safe, beneficial option for recovery, but if one of these other types of programs seems to suit your needs, you can find local fentanyl detox centers that offer this type of care as well. If you're seeking a drug rehab program that can effectively address fentanyl addiction, call 866-351-3840(Who Answers?) today to learn about your options.
Inpatient or Outpatient Fentanyl Detox
Inpatient centers and outpatient centers are the two main types of fentanyl detox programs. Choosing between them can be difficult if you are unsure what they offer.
Inpatient detox centers
According to the NIDA, these facilities normally offer treatment in a hospital-based facility, although there are a number of inpatient programs that offer nonhospital care (called residential detox centers). These facilities provide 24-hour care in a controlled environment for patients who need it.
Outpatient detox centers
These facilities offer the same general treatment options as inpatient centers, but they do not provide 24-hour care. Individuals who choose these programs create a treatment schedule with their caregivers, visit the facility often (usually daily at first), and then return home afterward.
It is important to consider how severe your dependency is when choosing a fentanyl detox program, but in general, inpatient care is usually the safest choice.
Call now to find inpatient and outpatient fentanyl detox centers near you!
Benefits of Inpatient Fentanyl Detox
Because fentanyl is such an intense opioid drug and because opioids are so widely available, anyone dependent on and addicted to this drug should seek inpatient detox. There are a number of benefits to seeking inpatient care, including
24-hour treatment
Meals and accommodations
Solitude and time to reflect on your recovery
Time away from the stressors of your daily life
Holistic treatment options, which most inpatient facilities provide
Daily activities, which most inpatient facilities provide
A clear transition from detox to rehab, which most inpatient facilities provide
A safe place to recover
Inpatient centers provide 24-hour care in a controlled environment, which means you will be safe and cared for by medical professionals for the duration of your fentanyl withdrawal. In addition, you will not be able to relapse. Anyone who is going through fentanyl detox should choose inpatient care because the drug causes such intense effects and this is usually the best, safest option for recovery.
Find a Local Fentanyl Detox Center
We want to help you find local fentanyl detox centers where you can recover safely from your drug dependence. However, every individual is different, so make sure you have all the necessary information about your needs for treatment, including any accommodations you will require during detox.
To find fentanyl detox programs available in your area, call 866-351-3840(Who Answers?) .
Going through withdrawal is frightening enough; don't do it alone. Let us help you find safe, reliable care under the supervision of medical professionals so you can put your fentanyl dependence behind you once and for all.
Sources
National Institute on Drug Abuse. (2016). Fentanyl.
Substance Abuse and Mental Health Services Administration. (2006). 1 Overview, Essential Concepts, and Definitions in Detoxification- Detoxification and Substance Abuse Treatment.
U.S. National Library of Medicine. (2018). Fentanyl.
National Institute on Drug Abuse. (2007). The Neurobiology of Drug Addiction- 10: Addiction vs Dependence.
U.S. National Library of Medicine. (2016). Opiate and Opioid Withdrawal.
Substance Abuse and Mental Health Services Administration. (2018). Medication-Assisted Treatment (MAT).
Irish Medical Journal. (2010). Lapse and Relapse Following Inpatient Treatment of Opiate Dependence. 
National Institute of Justice. (2011). Program Profile: Methadone Maintenance Treatment.
U.S. National Library of Medicine. (2017). Clonidine.
National Institute on Drug Abuse. (2018). Principles of Drug Addiction Treatment: A Research-Based Guide (3rd Edition)- Types of Treatment Programs.