How Do I Choose a Detox Center?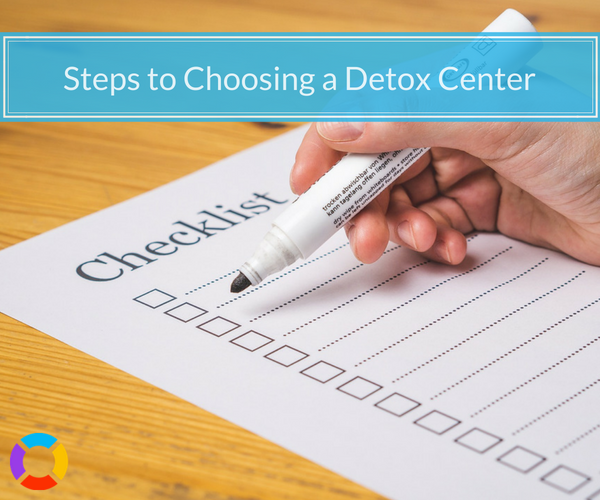 Choosing the right detox program for your needs is a part of the process of seeking and attending treatment. It is important to consider everything you will require from your treatment program, including its intensity, its care options, and its length. Once you do, you can choose a detox center that will be most effective for your recovery.
Let us help you through the process of choosing the right detox facility. Call 800-483-2193 today to speak with a treatment advisor and to begin the process of medically assisted withdrawal.
Step One: Understanding Detox
Detox is the process of allowing the body to become rid of a drug of abuse while also managing the symptoms of withdrawal with the help of medical treatments.
It is important to understand why detox is often the first step in addiction treatment and how it can be helpful to you.
Detox will allow you to rid yourself of your dependence on drugs and/or alcohol. Most people who use or abuse an addictive substance will become dependent on it after a month or so, and this means their body will experience intense physical and/or psychological symptoms when they suddenly stop taking the drug.
Going through medically assisted withdrawal helps you avoid experiencing any severe symptoms without the help of proper medical care. It will also allow you to prepare for and easily transition into rehab.
Detox is NOT a treatment for addiction on its own, only for dependence. As a result, it is often considered the first part of addiction treatment, but it MUST be followed by rehab.
There are many different detox programs available. Knowing a little about them can help you choose the best option for your safe recovery from drug dependence.
Inpatient detox: a program that provides 24-hour care in a controlled environment
Outpatient detox: a program that does not provide 24-hour care
Rapid detox: a program that allows opioid addicts to detox quickly under sedation
Medication maintenance: a program that allows opioid addicts to be maintained on drugs like buprenorphine or methadone rather than immediately weaned off opioids
Holistic detox: a program that focuses more on whole-body treatment rather than evidence-based practices
Spiritual detox: a program that offers spiritual guidance in addition to detox treatments
Natural detox: a program that does not utilize medications as part of treatment
Once you know a little more about detox in general, it will be easier for you to choose the best option for you.
Contact Detox.com now to find the best detox centers in your area!
Step Two: Consider Your Needs
Every patient has different needs, experiences, and requirements for treatment. As stated in the NIDA's Principles of Effective Treatment, an effective program must attend to multiple needs of the patient, even those that may not be directly involved in their substance abuse. These can include any needs under these categories.
Medical: Will you require any additional medical treatments during detox?
Psychological: Are you suffering from a comorbid disorder?
Social: Will you need help learning to function better in society? Will you require couples or family therapy?
Vocational: Did you lose your job because of your substance abuse? Will you require help finding a new one?
Legal: Have you experienced any legal repercussions of your substance abuse? Will you require representation?
Age: Are you underage? Will you require treatment that is specific to those of your age group?
Gender: Would you be more comfortable in a treatment program specific to those of your gender?
Your ethnicity, culture, sexuality, and many other aspects of your personal situation could also help determine which type of treatment will be best for you. In addition, you will want to make sure the intensity and treatment options available at your detox program of choice are effective for your needs.
A certain type of detox program, like holistic or spiritual detox, may speak to you. If so, try to find a facility that offers this type of care.
If you are looking for a specific treatment option, like methadone maintenance, make sure you search from a program that offers it. According to the National Institute of Justice, only facilities approved by the government can offer this type of care.
Once you consider all your needs for detox treatment—those that are associated with your substance abuse and those that aren't—you will be able to see a better picture of what kind of care you will require.
Step Three: Make a Budget
Addiction can ravage a person's finances, as many individuals use money meant for other aspects of their lives on compulsive drug and alcohol abuse. As such, you may be worried about how you'll pay for detox and what type of program you will be able to afford. The best way to determine this is to make a budget, including the amount you will be able to pay for treatment and the amount of your bills and other expenses that will continue on while you are in treatment. It is also important to know that, according to the NIDA, treatment is more affordable than continuing an addiction in the long run.
Once you have a better idea of what you can afford, you can start looking for treatment programs that suit your budget.
Treatment costs vary greatly, even during detox.
Luxury detox centers can cost upwards of $80,000 to $100,000. While this may seem shocking, these facilities provide a number of beneficial options, amenities, and accommodations to patients, including comfortable, private rooms, one-on-one time with instructors and practitioners, spa treatments, and others. Care is upscale, and the facilities are very comfortable, which can actually help patients stay in treatment longer.
Free treatment is also an option for those who are unsure if they will be able to afford detox at all. For example, the Substance Abuse and Mental Health Services Administration states that 4 percent of all treatment facilities offered completely free care in 2008. If you are not eligible for this option, you could be a candidate for sliding-fee scale detox, low-cost detox, or another, less expensive option.
Paying for detox can seem daunting, but you do have many different courses of action when it comes to seeking affordable care.
Many detox centers offer payment assistance such as facility grants, sliding-fee scales, and other options. If you are dealing with financial issues, seek out a facility that provides these choices.
Some people choose to finance their treatment costs by paying for some of it upfront and paying the rest in installments afterward.
Most insurance plans will now cover at least part of addiction treatment. Because detox is the first step in this process, most plans will cover this care.
Step Four: Inpatient vs. Outpatient Detox
Choosing between these two options can be difficult, but it is one of the last steps in deciding which type of detox will be best for you.
Some people require more intensive treatment, such as that found in inpatient centers. Others, like those with jobs, might fare better in outpatient treatment (NIDA).
People who are struggling with comorbid disorders, such as mental illnesses, in addition to addiction will often require inpatient care. This is because these facilities usually have more treatment options available for individuals in this condition. Also, these facilities provide a controlled environment where patients will always have medical care nearby.
Support from friends and family members is one of the four dimensions that support a life in recovery, as stated by SAMHSA. Those who lack this type of support may have a difficult time in recovery, which is why inpatient care is often an effective choice in this case. Patients can find support among the facility's staff and even among the other patients, rather than being alone when they leave treatment, which could potentially lead to relapse.
You may also want to choose inpatient detox if
You need hospitalization or intensive medical care.
You are nervous about relapsing, especially early on in your recovery.
You are likely to experience severe withdrawal symptoms that could become dangerous or even life threatening.
You do not live in an environment that is conducive to recovery.
You are afraid someone else will threaten your recovery if you are not protected.
It is necessary that you consider all the benefits of inpatient care and ask yourself if it may be the best option for your detox. Once you do, you can determine which type of care is right for you.
Step Five: Make a List
Create a list of everything you will require from your detox facility, including inpatient or outpatient care, general cost, any accommodations you may require, etc. Once you have done so, it will be easier to find a facility that meets as many of your stipulations as possible, which will be the best option for your needs.
Step Six: Call and Speak to a Treatment Advisor
We are available to take your call 24/7 and to match you with detox centers that will offer all the options you require for a safe recovery. Call 800-483-2193 today.