Heroin Detox: Symptoms, Timeline and What to Expect During Heroin Withdrawal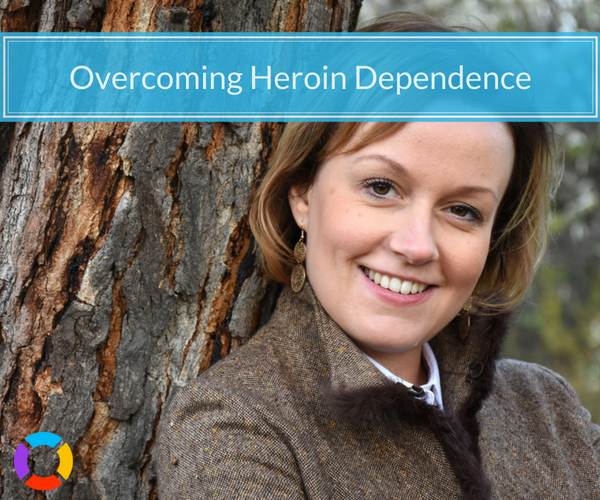 Out of all the illegal drugs on the market, heroin is the fourth most often abused drug in the United States. Data gathered by the Substance Abuse & Mental Health Services Administration shows emergency room admission rates resulting from heroin abuse equaled 93 out of every 100,000 people in terms of population numbers per area. As heroin detox treatment in general carries a high relapse rate and consequent overdose risk, a considerable number of these admissions likely resulted from overdose incidents.
Heroin users well know how uncomfortable withdrawal effects can be, which accounts for why so many addicts continue to use. Unfortunately, few people who want to quit understand the importance of getting needed help and support when trying to break a heroin addiction.
Heroin detox treatment may require intensive medical care, behavioral therapies as well as medication therapies depending on a person's physical condition and circumstances. Above all else, ensuring a successful heroin detox recovery greatly reduces the risk involved with relapse and overdose.
Heroin's Effects on the Brain
Heroin – one of the strongest opiate drugs in existence – integrates with the brain's chemical processes, quickly and easily. Strong similarities between heroin and the chemicals the brain uses to regulate pain and pleasure sensations become the driving forces behind heroin addiction. According to the National Institute on Drug Abuse, heroin's chemical composition is a near identical match to the brain's own morphine-like chemicals. Once heroin reaches the brain, it's converted into the same type of morphine substance that's normally produced by the brain.
This similarity between morphine and the brain's natural painkilling chemicals accounts for why heroin wreaks such havoc on brain and body processes. Heroin activates opiate cell receptor sites located throughout the brain and body. Once activated, these sites secrete large amounts of neurotransmitter chemicals. When ingested on a regular basis, the brain becomes dependent on heroin's effects to the point where cell receptors can't function without it.
Withdrawal Effects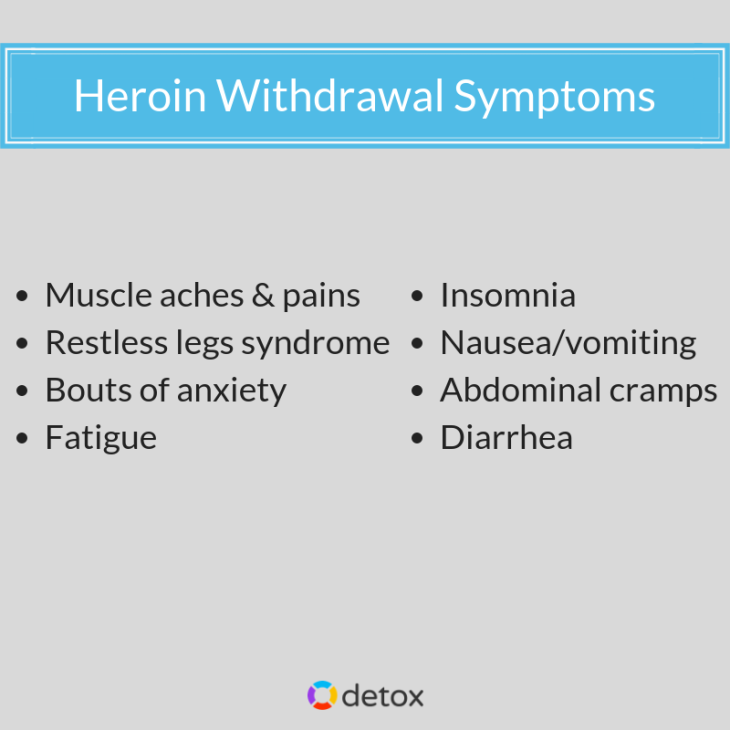 When the body doesn't get the amount of heroin needed to function normally, users likely experience uncomfortable withdrawal effects. These effects become the central focus throughout the heroin detox stage.
Withdrawal effects result from the body's attempts to restore chemical processes back to normal. On average, users start to experience these effects anywhere from six to 24 hours after their last dose of heroin, according to the World Health Organization.
Untreated heroin withdrawal often results in relapse. Contact us today to find the help you need.
Heroin detox unfolds in stages with the most acute symptoms occurring early on and lasting for one to two weeks. Symptoms commonly experiencing during the acute stage of heroin detox include:
Muscle aches and pains
Restless legs syndrome
Bouts of extreme anxiety
Fatigue
Insomnia
Nausea/vomiting
Abdominal cramps
Diarrhea
Afterwards, users may experience less intense withdrawal symptoms that can last considerably longer depending on the severity of the addiction.
Heroin Detox Treatment
More than anything else, a heroin detox procedure must manage or reduce the withdrawal effects that result when stopping drug use. Failure to manage distressing withdrawal effects leaves users highly susceptible to relapse. While it is possible to go "cold turkey," the severity of withdrawal effects often warrants seeking out professional drug treatment help.
Most drug treatment facilities employ medication-assisted drug therapies specifically designed to counteract uncomfortable withdrawal effects. Heroin detox programs also begin the process of treating the psychological component of addiction through ongoing psychotherapy and counseling treatment. Considering the widespread effects opiates have on the body, most recovering addicts go directly into inpatient or residential treatment programs after completing detox.
Heroin Detox Approaches
While professional drug treatment programs offer addicts the best chance of a successful detox, there are a few different methods available to try. The four most commonly used heroin detox methods include:
With medical detox, a person enters a detoxification facility where medical care and supervision are provided around the clock. People who have existing medical conditions, have a long history of heroin addiction history or suffer from multiple addictions would most benefit from a medical detox approach.
Rapid detox, a newly developed method that uses anesthesia and narcotic blockers, is designed to take a person through the entire withdrawal period within 48 to 72 hours time. While faster than traditional methods, the risk of experiencing complications during the procedure raises some concerns regarding its overall safety. According to the California Society of Addiction Medicine, there have been reports of cardiovascular changes and even death during anesthesia-assisted rapid detox.
Slow detox makes use of synthetic opiate medications, such as methadone and buprenorphine. Both drugs mimic the effects of heroin thereby reducing the severity of withdrawal effects a person experiences. This approach can be administered on an outpatient basis. Treatment duration can last anywhere from three months to several years depending on the severity of the addiction.
Psychosocial Treatments
As heroin detox marks the first step in treating the body's dependence on the drug, psychosocial treatment addresses addiction's psychological components. While stopping heroin use is the primary goal in heroin detox, leaving the psychological addiction untreated only sets a person up for an inevitable relapse episode.
Psychosocial treatments help addicts identity the underlying issues that drive them to use heroin to cope with everyday life. Without this awareness, old habits and behaviors will naturally resume once a person completes detox.
Whether detoxing in a facility, on an outpatient basis or going it alone, psychotherapy, group counseling and 12-step support groups provide recovering addicts with the tools they'll need to stay drug-free once they complete the detox stage.
Considerations
Whenever someone goes through heroin detox, the body's tolerance level for heroin can decrease considerably. As people who relapse often return to the dosage amounts they left off at, there's a significant risk of overdose with each relapse episode. For these reasons, it's critically important to choose the heroin detox approach that has the best chance of success.
Likewise, getting needed psychosocial treatment help is equally important. Without ongoing psychosocial treatment, a person remains at risk of relapse for as long as underlying psychological issues go unresolved. This risk of relapse is no less real months and even years after a successful heroin detox. As such, the risk of overdose remains.
Call 800-483-2193(Who Answers?) today to find the best heroin rehabs in your area. 
Sources
Substance Abuse and Mental Health Services Administration. (2011). Illicit Drug Related Emergency Department Visits Vary by Metropolitan Area.
National Institute on Drug Abuse. (2018). Heroin.
World Health Organization. (2009). Withdrawal Management- Clinical Guidelines for Withdrawal Management and Treatment of Drug Dependence in Closed Settings. 
California Society of Addiction Medicine. (n.d.). Anesthesia-Assisted Rapid Opioid Detoxification.