Addiction Text Messaging Service May Reduce Opioid Relapse Rates
A new text messaging service may help reduce rates of opioid abuse and relapse among people recovering from opioid addiction. The service sends automated text messages to patients asking whether they're feeling okay or on the verge of relapse, and features a panic button that can be used in the event patients need immediate help and counseling. Researchers are saying the text service has delivered positive results so far, and may even decrease treatment costs for patients by as much as 19%.
How Does the Texting Service Reduce Opioid Relapse?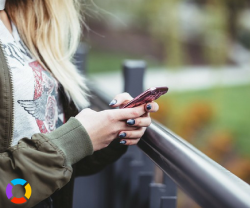 The new text messaging service was developed by researchers at Washington University School of Medicine and a digital health company called Epharmix. Patients who use the service receive daily automated text messages from their caregivers that inquire about their relapse status and overall well-being. Patients who report they're experiencing urges to use can then receive counseling, therapy, and support via text or phone call, or make an appointment to meet with their treatment provider immediately.
The texting service was launched in late 2016 and used by 21 patients recovering from opioid abuse at a community-based treatment center in St. Louis. At the time these patients started using the service, 43% had reported abusing opioids within the last three days, while 43% had reported no use. Three months later, only 10% of patients had abused opioids within the last three days, while 50% reported no opioid use. The remaining patients did not respond to follow-up questions regarding opioid use.
Lead study author Avik Som says the texting service helps reduce opioid relapse rates because patients and caregivers prefer the ease and convenience of text messaging, and the service is effective at keeping patients engaged with treatment. Plus, the texting service reduces the amount of time caregivers spend on making individual phone calls and scheduling appointments — freeing up extra time that can be better used to treat high-risk patients. Patients who use the app report feeling more connected to their treatment providers as a whole.
Other Effective Strategies for Preventing Relapse
While the new texting tool may seem promising at lowering relapse rates among patients recovering from opioid addiction, Som says the tool is not meant to replace face-to-face contact between patients and their providers. The texting service is only designed to complement cognitive behavioral therapy, support groups, and other therapies aimed at fighting opioid addiction, and is not meant to replace therapy in its entirety.
Relapse rates for drug use disorders are between 40 and 60%. Relapse is common and normal among those recovering from addiction, but can be treated using one or more evidence-based therapies that promote long-term sobriety.
Other useful ways to prevent relapse:
Join a detox aftercare program. Aftercare programs offer ongoing therapy designed to help you stay sober after completing drug detox.
Attend 12-step support group meetings. Groups like Narcotics Anonymous can help you feel less isolated and allow you to bond with others also recovering from opioid addiction.
Identify and avoid relapse triggers. Know your personal triggers, and devise strategies that help you manage or overcome triggers so you can avoid relapse.
Build a solid support system. Reconnect with loved ones and work with counselors to build a strong support system comprised of people devoted to helping you stay sober.
Find new, healthy ways to manage stress. Stress is one of the most common relapse triggers, but stress can also be effectively managed using healthier methods like exercise, meditation, and yoga.
Where to Find Help for Opioid Abuse
Use our drug detox center directory to find an opioid detox center near you. Select your city and state to learn more about nearby addiction treatment centers that use detox and therapy to help you overcome opioid addiction. Many opioid detox treatments involves the use of medications that can relieve opioid withdrawal symptoms and help you experience a safer, more comfortable recovery.
Call our 24/7 confidential helpline at 800-483-2193(Who Answers?) to speak with an addiction counselor about your treatment options. Detox.com will help you find the nearest drug detox center ready to guide you or your loved one along the path to improved health and lifelong sobriety.