Boston Medical Center Offers Cooking Classes for Recovering Addicts
Boston Medical Center is currently running a new class for recovering individuals called Cooking for Recovery. Although the hospital has offered classes in the past for patients interested in heart disease and diabetes-related cookery, this is the first class of its kind at the facility. The hospital hopes to take a more inclusive approach to treatment, allowing patients to receive help that takes all of their needs into account rather than just focusing on specific symptoms.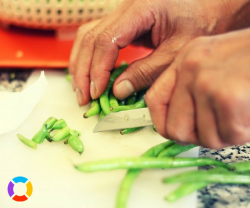 One of the aspects discussed at the cooking class was that recovering addicts should work hard to put good food on their tables, including food that will enhance their moods. This includes vegetables, whole grains, and other healthy items. The chef discouraged eating food that will depress one's moods like candy, fried foods, and other sugary confections. These foods can actually act similarly to using drugs, giving one who eats them a huge burst before depleting their energies.
"Good health care is about more than just direct clinical services," stated Michael Botticelli who is the executive director of Grayken Center for Addiction. "Recovery is not just about stopping the use of alcohol and drugs. It's about how do we return people to a sense of wellness and a sense of well-being."
Holistic Treatments and Detox
Cooking classes are a kind of holistic treatment for addiction. As stated previously, they provide individual with care that takes all of their needs into account, including those that may not immediately be present or clear to caregivers. This is known as whole-body care. During addiction treatment and detox, a patient can often gain access to this kind of treatment, which is effective for recovery.
Some of the holistic programs often used in detox include
Journaling
Biofeedback therapy
Yoga
Meditation
Art therapy
Animal/pet therapy
Hypnosis
Aromatherapy
Virtual reality
Homeopathy
Gardening therapy
Herbal therapy
Wilderness therapy
Coloring therapy
There are many other options that you may come across during your journey of recovery. While detox focuses specifically on drug dependence and weaning the patient off the substance while treating withdrawal symptoms, rehab follows this program and focuses more on skills needed to avoid relapse like those taught in these cooking classes (National Institute on Drug Abuse).
How Do I Find Detox Centers Near Me?
It's important to choose the program that offers you the most comprehensive and individualized care for your needs. After all, you are different than other individuals and will require a treatment program that suits you. This is why it is so important to seek out the best option for your recovery, not someone else's.
Make a budget for your recovery. Make sure you can stick to it, as it will make the entire process less of a headache.
Ask yourself what you will require from your treatment program in order to recover safely. This includes everything you will need, even if it doesn't directly pertain to your addiction (NIDA).
Finally, ask yourself how intense your treatment will need to be, especially at first. If you have a severe addiction or dependence—or your withdrawal symptoms could potentially be life-threatening—inpatient care may be necessary, especially during detox.
When you know what you are looking for, call 866-351-3840(Who Answers?) to speak with a treatment advisor. We will be happy to help you find the best treatment options for your addiction recovery.