Cocaine Ring in New Jersey Busted
Nine individuals were indicted on March 13, 2018 in a New Jersey cocaine ring. Though eight of these suspects were identified, the ninth is still at large.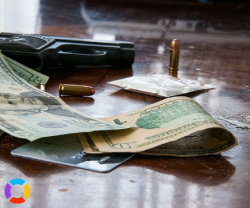 This followed an eight-month long investigation where many different illegal items were found and seized, including cocaine, opioids, and guns. Over $75,000 in cash was also seized. According to authorities, more than 80 fentanyl pills were found as part of the drug bust as well as 8 kilos of cocaine.
Three suspects have been identified as top suppliers and charged with promoting organized street crime. They are Jose Encarnacion, 35, Adrian Mena-Acevedo, 25, and Luis Peguero-Nin, 27.
Attorney General Gurbir S. Grewal had this to say in a recent statement: "By dismantling this supply network and locking up its members, we cut off a major source of cocaine for drug dealers in and around New Jersey's third-largest city." Both fentanyl and cocaine pose serious substance abuse problems in the Garden State.
Cocaine Abuse Signs and Symptoms
Cocaine is a dangerous drug that is often abused by those hoping to experience a powerful high. The drug also causes a person to need little food and sleep, which is attractive to many users. According to the National Institute on Drug Abuse, some of the street names for cocaine include coke, blow, rock, snow, and crack, the latter of which is a term for a smoked form of cocaine that is even more addictive.
Cocaine abusers will often show a number of signs that are easy to identify. These include
Edginess, excitability, increased alertness
Runny nose
Confusion
Insomnia
Decreased appetite
Weight loss
Dilated (large) pupils
Mood swings
Nosebleeds
Anxiety
Paranoia
Risky behaviors
People on cocaine will often engage in many risky behaviors which can lead to contracting transmitted diseases passed through shared needles like HIV and hepatitis, contracting sexually transmitted diseases, and other problems. Cocaine users often have financial issues because they spend all their money on the drug, and they will likely get in trouble at work or school. Finally, they may do other dangerous things like driving under the influence of the drug, potentially leading to an accident or an arrest.
Can I Get Someone I Love into Cocaine Detox?
Yes. Cocaine detox will help a person put an end to their dependence on the drug. Usually, medications are used to treat withdrawal so the symptoms are not as severe. In some cases, people experience intense hallucinations and other psychological symptoms during early withdrawal, and these can be treated in detox as well.
Once their detox program has ended, however, your loved one will need to attend addiction treatment. Cocaine is a highly addictive drug, and without this follow-up program, your friend or family member will have a much higher chance of relapse. Detox is an effective program for dependency treatment, but on its own, it is not a full treatment program for addiction.
Call Us Today to Learn More About Treatment
You can get the help you need finding detox and rehab centers for cocaine addiction—or another type of substance use disorder—today. Just call 866-351-3840(Who Answers?) .