Mother Claims Child Suffered Brain Damage Under Drug-Addled Medical Professional's Care
Linezka Torres, the mother of four-month-old Lucas Navarro, is accusing former nurse Thomas Spufera III of causing serious brain damage to her son while he was receiving care at Nicklaus Children's Hospital in Miami. Torres claims Spufera was bathing Lucas, and that he pulled out the baby's breathing tube by accident. This left Lucas unable to breathe for seven minutes or more, which led to brain damage. Lucas was perfectly healthy when he was admitted to the hospital, only suffering from the flu, and now, the child requires a feeding tube and cannot eat solid foods, speak, or walk. Torres claims Spufera was high on methamphetamine at the time the incident occurred.
According to the attorney representing the hospital, both the hospital and the nurse deny the claims, stating that the hospital always puts the patient's needs first. However, Spufera had admitted his addiction to methamphetamine in the past to the hospital and was sent to rehabilitation before returning to work. Though Spufera is no longer a nurse, he states that he was not on methamphetamine when the incident occurred. There are no records of Spufera being drug tested within 48 hours of the event.
Medical Professionals and Addiction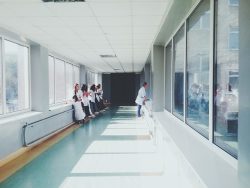 Unfortunately, many people are not aware of the serious issue of addiction among medical professionals (Mayo Clinic Proceedings). People like Spufera are not few and far between, as doctors, nurses, and therapists have increased access to drugs of abuse. Also, such a stressful jobs working very long hours can cause individuals to seek out ways to cope or ways to keep pushing ahead. These issues have helped lead to the medical profession being one of the top 10 jobs where substance abuse is most prevalent.
Methamphetamine Abuse and Addiction
Methamphetamine is a prescription drug that can be used to treat ADHD and other issues, but it is only meant to be prescribed when nothing else has worked. Unfortunately, methamphetamine is also very similar to the street drug crystal meth, which is smoked from a small glass pipe (National Library of Medicine). Crystal meth abuse can cause a number of intense side effects such as
Euphoria
Confusion
Increased blood pressure, breathing rate, body temperature
Talkativeness
Paranoia
Insomnia
Erratic behavior
Dilated pupils
Headache
Tremors
Nausea and vomiting
Jitteriness
Uncontrollable clenching of the jaw
Seizures
Those who abuse methamphetamine in the long-term can experience a number of serious physical side effects as well as brain damage. In turn, the drug can cause psychological symptoms to occur, some of which are similar to those caused by schizophrenia. Though these symptoms can fade away with treatment, they can sometimes resurface suddenly and without warning years after the individual's last use of the drug (National Institute on Drug Abuse).
I'm Struggling with Addiction and I Want to Stop.
You can put an end to your drug abuse if you seek the right treatment. There are many different detox and rehab centers near you where you can find the help you need and finally put your substance abuse in the past. Call 866-351-3840(Who Answers?) now to speak with a treatment advisor.