New Jersey Doc Prescribed Opioids Unnecessarily for Years
Dr. Evangelos Megariotis, a New Jersey doctor who owns and practices at Clifton Orthopedic Associates, P.A. in Passaic County, was recently barred from prescribing opioid drugs to patients, largely because he was prescribing them with no definite reason and even in the face of blatant abuse. Also, Dr. Megariotis is currently barred from practicing medicine until the New Jersey Board of Medical Examiners is able to choose another individual to be present during all of his meetings with patients.
These constraints are all part of a deal between Megariotis and the board after recent evidence has shown that he participated in professional misconduct and gross negligence in his practice between the years of 2012 and 2017. This treatment specifically refers to nine of his patients, whom the board alleges he treated for conditions outside of his specialty, failed to diagnose properly for underlying conditions associated with pain, and kept on pain medications for much longer than necessary. In addition, he is accused of having performed unnecessary surgeries on certain patients and of failing to report patients to specialists when applicable, choosing to treat them himself even when he didn't have expertise in the area of their need.
The Attorney General Gurbir S. Grewal specifically pointed out the blame doctors like Megariotis have in causing and intensifying the opioid addiction crisis. Among some of the most specific allegations are that Megariotis told patients to "just call [him]" if they wanted medications, assured individuals "anything that drugs can do on the street, my medications will do better and safer," and treated issues like car phobia and PTSD with Xanax, Adderall, and cough syrup with codeine.
The Use of Prescription Opioids and Other Drugs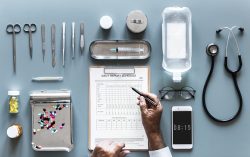 As stated by the National Library of Medicine, opioids can be used safely under a doctor's care to reduce pain. Other dependency-causing drugs, like benzodiazepines and stimulants, can also be taken safely under a doctor's care to treat certain conditions, but it is very important to take them as prescribed and only when nothing else will work. No person should be on these medications unnecessarily, and many are encouraged to only stay on drugs like benzodiazepines or opioids for less than one week. Otherwise, dependence can form, which is more likely to lead to abuse and addiction.
Doctors, as shown above, can be fallible, and certain individuals prescribe medications in ways they are not meant to. Most doctors, though, are encouraged to look for the signs that a patient is struggling with dependence or other issues while taking these drugs and will need to be weaned off them. These can include
An inability to sleep, get through the day, etc. without the drug
Irritability or other side effects when unable to use the drug
A need for more of the drug to cause the same effects (tolerance)
Asking for more of the drug or trying to find it elsewhere
Do I Need Help for Drug Addiction?
If you think you are already addicted to a substance, there is a good chance you are. If you have been abusing your medication or taking street drugs and you need help, call 866-351-3840(Who Answers?) now. We will connect you with a rehab center that will allow you to safely recover from addiction.