New Jersey Students Speak Out Against Opioid Addiction
Students at Bordentown Regional High School are hoping to facilitate real change in their community by creating a public service announcement for the state's Facing Addiction Taskforce. Students in the school's peer-to-peer program want to tackle the seriousness of the state's substance abuse problem with their PSA, especially the opioid addiction crisis.
In their video, the students deal with the serious issues caused by opioid abuse in their community, but many of them have seen this problem first-hand. Several students stated that they have seen friends, family members, and other loved ones abuse prescription opioids, and unfortunately, many of them have even been prescribed these drugs in the past, even though they are all still in high school.
In order to make a positive change, the Overdose Prevention Agency Corporation hopes to use the PSA to educate individuals like first responders and law enforcement agents about how to administer Narcan and why this crisis is so serious in the state.
Opioid Abuse and Education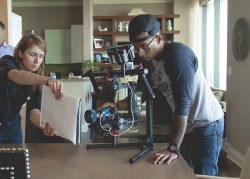 For many years, we believed that opioid drugs were perfectly safe as long as patients took them as prescribed. But over the years, we have begun to learn that even taking these drugs as recommended by a doctor can leave a person with serious problems.
Dependence and tolerance occur after an individual has taken opioid drugs for just a few weeks, and even being on these drugs for more than 180 days will vastly increase one's chances of experiencing depression at some point in their lifetime. Also, those who take opioids for more than just 7 days will also see an increase in their likelihood of experiencing addiction.
However, one of the best tools for fighting these issues is education, especially among younger individuals. Schools are attempting to fight back and provide more education for students in a number of ways, and as evidenced above, those students themselves are even attempting to arm more people with knowledge about opioid abuse.
Narcan Administration and Opioid Overdose
One of the most dangerous potential outcomes of opioid abuse is overdose. According to the National Library of Medicine, a person can become intoxicated from abusing large doses of these drugs, which can lead to shallow, slowed, or no breathing, coma, brain damage, and death.
Narcan is an opioid antagonist that can be administered via injection and immediately save a person's life. More education about how to use this drug—as well as more availability of Narcan in its auto-filled injection versions—can be effective in fighting opioid abuse and addiction, as well as the serious and often deadly outcome of opioid overdose.
What Do I Do If I Have an Opioid Addiction?
If you are suffering from opioid addiction, now is the time to get help. You will not be able to recover safely from your addiction unless you seek the proper care, which includes detox and rehab in professional treatment centers.
Just call 866-351-3840(Who Answers?) , and we will assist you in finding the safest, most effective treatment centers available for your opioid dependence and addiction. We can also answer any questions you may have about recovery and addiction.