New Opioid Addiction Clinic Opens North of Jacksonville
A new opioid addiction treatment clinic opened north of Jacksonville, FL in Springfield. This is a beneficial change for the people of this city who have one of the highest overdose rates in the state.
"We go into the areas that have the greatest need," says Jody Hanks, the manager of Jacksonville's new CleanSlate rehab center. "So, Jacksonville of course [has] a big deal with overdoses… The fire department is running on them all the time."
Hanks isn't wrong. First responders in Duval County, where Jacksonville is located, have stated that they receive at least two calls for suspected overdoses every hour, which they must go out and investigate. Most of these calls are for opioid overdoses, and Duval itself has the highest rate of fentanyl-related deaths in the state.
Though it is a new facility, CleanSlate already has a number of specialists on board, including a nurse practitioner, a social worker, and an addiction specialist. Both therapy and medication will be used as part of the treatment found in this facility, similar to the other CleanSlate clinics in Florida, which are located in Plantation, Orlando, Miami, and Tampa.
Opioid Overdose in the Sunshine State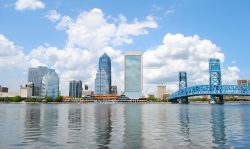 Unfortunately, Florida has one of the highest opioid overdose rates in the country. According to the Centers for Disease Control and Prevention, the number of drug overdoses in the state rose by 22.7 percent between 2014 and 2015. Between 2015 and 2016, these number rose a staggering 46.3 percent. And while the numbers for Florida were not included in the CDC's prescription opioid overdose or heroin overdose rates, we understand these to be climbing ever higher.
Though Governor Rick Scott declared the opioid crisis to be a state of emergency back in 2017 before it was declared a public health emergency nationally, there are still serious problems in the state with opioid abuse and overdose, specifically the problems caused by fentanyl.
Fentanyl Abuse: How Do I Recognize It?
Those who abuse fentanyl take their lives into their hands. The drug is 50 to 100 times more potent than morphine, according to the National Institute on Drug Abuse, and it is even more potent than heroin. This is why many people who abuse it experience overdoses. You can recognize someone who is using fentanyl by a number of signs and symptoms.
Confusion
Drowsiness
Dizziness
Dry mouth
Hallucinations
Coordination problems
Mood swings
Slow breathing
People who abuse fentanyl might eat patches that contain the drug or purchase it illegally in order to experience its effects. Many even make their own fentanyl or drugs similar to it, which, unfortunately, is even more dangerous. If you know someone who is abusing fentanyl, it is important to get them help as soon as possible, as this drug can cause one of the most deadly and dangerous overdoses of any opioid drug.
Get Help for Opioid Addiction Today
Are you or is someone you love struggling with fentanyl or another type of opioid abuse? Now is the time to get help. Call 866-351-3840(Who Answers?) to speak with a treatment advisor and find local detox and rehab centers that can help you.