Study: Prescription Drug Monitoring Programs May Not Be Improving the Opioid Crisis
Prescription drug monitoring programs are tools doctors can use to learn more about a patient's prescription drug history. PDMPs can help doctors find out whether patients are already using opioids, and how long they've been using these highly addictive drugs. But a new study has found that PDMPs may be having unintended negative consequences for the opioid crisis in the form of increased heroin overdose rates.
How Are PDMPs Negatively Affecting the Opioid Crisis?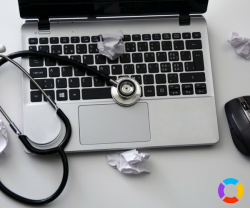 PDMPs are intended to improve the opioid crisis by preventing more painkillers from falling into the hands of those using painkillers for non-medical reasons, or who are struggling with opioid addiction. Doctors who treat patients for chronic pain can log into their state's PDMP, look up a patient's prescription drug history, and evaluate the risk surrounding the prescribing of opioids. Patients identified to be at high risk for opioid addiction or who may be diverting their drugs are usually cut off from opioids, and end up receiving alternate treatments that carry a lower risk for opioid abuse.
The latest study published in Annals of Internal Medicine reveals that PDMPs may be causing higher rates of heroin addiction and overdose. The purpose of the study was to examine the impact of PDMPs on the opioid crisis, and determine whether these programs are effective at reducing opioid overdose rates. After looking at a number of reports on the efficacy of PDMPs, researchers found that the rate of heroin overdose deaths increased after PDMPs had been implemented around the U.S.
Co-senior author Silvia Martins, MD, PhD says PDMPs have led to tightened restrictions on opioid prescribing, which has caused people to replace painkillers with heroin as a result of no longer being able to obtain painkillers. Martins says doctors who use PDMPs should start taking supply and demand of illicit opioids into question when limiting painkiller prescriptions, since patients who suffer from opioid addiction will often head to the streets for heroin.
What to Do if You're Addicted to Prescription Opioids
Prescription opioid addiction is extremely dangerous and can lead to multiple long-term health problems along with the risk for overdose and death. Long-term use of opioids changes the brain in ways that make it difficult to stop using these drugs without experiencing extreme cravings and severe withdrawal symptoms. As a result, opioid users can stay stuck in the cycle of addiction to avoid withdrawal, and are unable to break free of their addiction without professional help.
If you're addicted to prescription opioids, the safest way to overcome opioid dependence is to get help at a professional drug detox center. An opioid drug detox center helps you withdraw from opioids safely and comfortably with the use of medications that relieve your symptoms. This allows you to recover from opioid addiction without having to suffer severe pain and discomfort caused by symptoms such as nausea, bone pain, and insomnia.
Don't stop taking prescription opioids abruptly on your own without a doctor's help, since this puts you at risk for relapse and overdose. Instead, visit a drug detox center to replace the drug of abuse with an opioid detox medication designed to help you overcome opioid dependence. Therapy is also available to help you overcome certain negative thoughts and behaviors that may be driving psychological opioid addiction.
Where to Find Opioid Addiction Treatment
Opioid addiction treatment is now more widespread than ever to help the U.S. improve its opioid crisis and reduce the number of deadly overdoses. Opioid addiction treatment can take place at an outpatient or inpatient treatment center, depending on which program works best for you and your lifestyle.
Use our online directory to find a drug detox center near you, or call our 24/7 confidential helpline at 800-483-2193(Who Answers?) to discuss your options with an addiction counselor. Detox.com will answer all your questions about opioid addiction treatment, and help you find the nearest detox center ready to guide you along the path to better overall health and sobriety.