Recovery Community Organization Symposium Held in Tift County
On February 24, A new Recovery Community Organization Symposium was held to discuss the state of addiction, drug abuse, and recovery in Tift County, Georgia. The symposium started at 10 AM and lasted until 2 PM. It was led by Judge Herbert Benson, and over 150 people attended.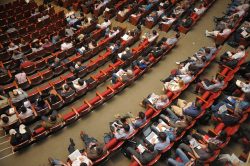 Different speakers attended the conference like Neil Campbell of the Georgia Council on Substance Abuse, Patty Collins of Face to Face Recovery, Alexia Jones of R2ISE Theatre, and Claudia Hamilton of Living Proof Recovery. All of the speakers are prominent advocates for addiction recovery in their home bases across the state of Georgia, coming from cities like Jesup, Decatur, Warner Robins, and Rome.
The main purpose of the event was to get the new Recovery Community Organization, OASIS (or Overcoming Addiction with Sobriety), off the ground. Many of the attendees felt the program was a success, as a number of speakers were sharing their stories of addiction and sobriety for the first time and the event allowed everyone to be very genuine with their experiences.
Surveys stated that most people liked the personal testimonies the best out of everything that happened at the event. The RCO will continue to act as a service for the community to ensure more people get help in the form of professional treatment.
Why Is Professional Treatment for Addiction So Important?
Professional treatment is necessary for addiction because it is a disease, much like diabetes or asthma. As such, it requires treatment that provides the best possible care in order for the individual to make a safe recovery. Those who attempt to go through recovery at home often relapse because they do not have the knowledge and medical help they could gain through addiction treatment.
Treatment usually comes in two stages: detox and rehab. Detox is often the first step in recovery, although it is not the last. According to the National Institute on Drug Abuse, detox focuses on helping patients put an end to their drug abuse and their drug dependence, but it must be followed by rehab.
Rehab focuses on preparing you for a life in recovery. You will learn the life skills necessary to avoid relapse, and you will often be able to delve into the reasons why you started using drugs in the first place.

For example, if you have a mental disorder, this can be assessed, diagnosed, and treated so you will have a much lower likelihood of relapse.
The Addiction Problem in Georgia
Georgia has a severe addiction problem. Unfortunately, the number of opioid overdose deaths increased in the state between 2014 and 2015 by 10.5 percent (Centers for Disease Control and Prevention). Between the years of 2015 and 2016, the number of all drug overdose death rates increased by 4.7 percent. Many Georgians, especially those in rural areas, are struggling with addictions and don't know how to find help.
Get Help Today
We are available to help you seek out treatment facilities near you that will allow you to recover safely. Call 866-351-3840(Who Answers?) now to speak with an advisor.