Rise in Heroin Overdose Deaths Linked to 2010 OxyContin Reformulation
The rate of heroin overdose deaths in the U.S. quadrupled from 2010 to 2014, and continues to climb as the country faces a deadly opioid epidemic. A new study penned by researchers at Notre Dame and Boston University reveals that the rise in heroin overdose deaths during this time was driven by a 2010 reformulation of Purdue Pharma's OxyContin — the brand name for oxycodone. The study results question whether abuse-deterrent formulations (ADFs) can effectively reduce drug abuse and overdose rates when substitute drugs like heroin are readily available.
Painkiller ADFs Drive Heroin Use Rates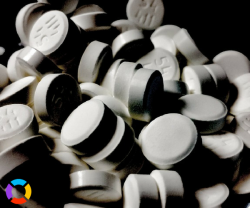 In August 2010, Purdue Pharma developed an ADF for OxyContin in an effort to prevent people from using the drug recreationally. ADFs are technologies designed to prevent drug misuse by means of crushing, snorting, and injecting drugs to achieve a more powerful high. The reformulation of OxyContin caused the pills to turn into a gummy substance instead of powder when crushed, making it near to impossible for users to snort or inject the drug.
In a working paper entitled, "How the Reformulation of OxyContin Ignited the Heroin Epidemic," researchers note how the 2010 ADF caused OxyContin users to switch to heroin. The rate of U.S. prescription opioid consumption stopped in August 2010 after the new formulation of OxyContin was released, while the rate of heroin overdose deaths started rising steeply in September 2010. The rate of heroin overdose deaths was found to be higher in areas that had greater access to heroin and the original formulation of OxyContin.
In 2015, nearly 250 people who entered addiction treatment programs for OxyContin abuse were asked how they dealt with the 2010 reformulation of the drug. One-third of those surveyed said they reacted to the ADF by switching to other drugs, with 70% of those individuals reporting to have switched to heroin.
Why Did OxyContin Users Switch to Heroin?
Oxycodone — the active ingredient in OxyContin — is one of the three most common drugs involved in prescription opioid overdoses. Roughly 66% of the more than 63,600 drug overdose deaths that occurred in 2016 involved an opioid like oxycodone. Opioids are highly addictive, and can quickly lead to tolerance, dependence, and addiction when misused.
Opioid abuse causes changes in brain chemistry that influence people to keep using these drugs despite knowing there may be negative consequences. People who suffer from oxycodone addiction will experience mild to severe withdrawal symptoms when stopping this drugs abruptly, unless they continue using opioids or enter an oxycodone addiction treatment program.
In regards to the OxyContin reformulation, people switched from using oxycodone to heroin so they could fuel their opioid addiction more easily and at a lower cost. Tolerance to OxyContin prevents users from experiencing the drug's euphoric effects when using the drug as directed. The 2010 reformulation made it difficult for OxyContin users to abuse the drugs by snorting and injecting, which is why they switched to heroin.
Treatments for Heroin and Painkiller Addiction
An estimated 2.1 million Americans are addicted to prescription opioids like OxyContin, while an estimated 467,000 Americans are addicted to heroin. Opioid addiction in itself can be extremely dangerous due to the way these drugs hijack the brain and increase the risk for an overdose. But opioid users who switch to heroin face an even greater risk for an overdose, since heroin is being more commonly mixed and cut with powerful synthetic opioids like fentanyl and carfentanil.
Heroin and painkiller addiction can both be safely treated at an opioid detox center using a medical detox or medication-assisted treatment (MAT), and therapy. A medical detox and MAT use FDA-approved medications methadone, buprenorphine, and/or naltrexone to reduce opioid cravings and all other withdrawal symptoms so patients can recover more comfortably and successfully from opioid dependence. Therapies like cognitive-behavioral therapy and group therapy help patients identify and overcome triggers, negative thoughts, and behaviors that may have been driving their opioid addiction.
Call our 24/7 confidential helpline at 800-483-2193(Who Answers?) to discuss all your available options for opioid addiction treatment with an experienced addiction counselor. We'll perform a free insurance verification and help you find the nearest drug detox center ready to help you safely and fully overcome heroin or painkiller addiction.