Serious Increase in Opioid Overdose Deaths in Ohio, Triple the National Average
Between July of 2016 and July of 2017, the number of drug overdose deaths in Ohio increased 39 percent from 3,763 to 5,232, according to the Centers for Disease Control and Prevention. The national increase was only 14.4, which means that the Ohio increase was nearly triple the U.S. average of overdose deaths in this one-year span.
The number of deaths in Ohio that were related to drug overdoses made up 4.3 percent of the overall deaths in the state. This can also be averaged out to more than 14 deaths a day due to drug overdoses. However, many warn that the true number of deaths is underreported due to the stigma caused by addiction, unknown causes of death, etc. Therefore, it is likely that even these numbers are smaller than the actual amount of overdose deaths in the state and country, respectively.
Ohio's increase was third largest overall after a 43.4 percent increase in Pennsylvania and a 39.4 percent increase in Florida. These two states also had higher total overdose death rates than Ohio in this time frame at 5,443 and 5,540, but Ohio was third overall in the U.S.
What Can Be Done to Minimize Overdose Deaths in Ohio?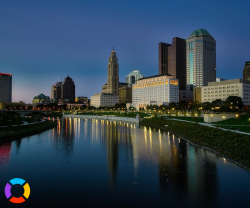 The state currently spends about one billion dollars every year in order to combat the drug addiction and overdose crisis. Most of these funds are distributed through Medicaid for addiction treatment programs. However, the treatment for this issue—and the money spent on it—doesn't seem to be able to keep up with the increasing number of deaths.
Experts state that the current options for treatment do not go far enough toward helping those who truly require care. While there are options for recovery, many are not able to reach them if they live in rural communities. As such, more programs will need to be made available in each and every community in Ohio. Furthermore, the state is attempting to reduce access to dangerous and addictive drugs as well as to provide early intervention programs for young people in school.
How to Recognize a Drug Overdose
Different drugs cause different overdose symptoms, so it can be difficult to determine if someone has overdosed on a specific substance. However, it can be helpful to look for these general symptoms, as stated by the Better Health Channel.
Seizures
Sleepiness or drowsiness
Unconsciousness
Coordination problems
Shallow breathing or no breathing
Hallucinations
Confusion
Fingers, lips, tongue turning blue
Nausea
Vomiting
Cramps
If a person becomes unwakeable even if you shake them or shout their name, they potentially be in a coma. You will need to get the person emergency help immediately by calling 911 if they show any of the signs listed above.
Getting Help for Drug Addiction and Dependence
Those who abuse drugs are at a serious risk of experiencing an overdose like the ones mentioned above. Drug overdoses can be deadly and difficult to predict, so it is also better to help a person seek treatment before this occurs.
If you or someone you love is struggling with drug abuse, call 866-351-3840(Who Answers?) now to speak with a treatment advisor who can help you find safe, effective detox programs where you can begin your recovery.