State Government Proposes Cutting Funding for Vivitrol Injections
In the state of Florida, the opioid epidemic has been a serious issue for a long time, and the state government is finally beginning to take real steps toward fighting it. Though the Florida government officials stated in January that they were looking to set aside $50 million for the treatment and prevention of opioid addiction, the same lawmakers are also proposing to slash the budget for this same issue by $7 million. Their target? Vivitrol injections, a drug that is given to opioid addicts on their way out of prisons and/or rehab facilities.
The decision to cut funding for Vivitrol could be highly dangerous to the recovering community, especially to those who are leaving prison and might return to criminal acts simply to get their next fix. Though the Health and Criminal Budget Chairs of the Florida House of Representatives may believe removing Vivitrol injections would be a drop in the bucket compared to their massive, $50-million proposal for the opioid epidemic, there does seem to be a serious conflict of interest in these moves.
What Does Vivitrol Do?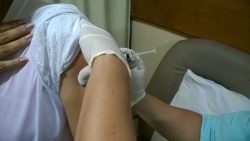 Vivitrol contains the drug naltrexone and is not an opioid itself (Substance Abuse and Mental Health Services Administration). In fact, it does not even treat pain or minimize withdrawal like methadone and buprenorphine do. Vivitrol is instead a once-monthly injection that simply helps curb cravings in individuals who have already withdrawn from opioids and who are in recovery.
Not every individual will require Vivitrol after leaving either prison or rehab sober, but those who do are often able to find real benefits in this option. According to the National Institute on Drug Abuse, there used to be considerable issues with compliance associated with the drug, but now that it can be administered only once a month and stay effective for this prolonged period of time, compliance issues have minimized considerably. It is also a helpful option for those who have fully undergone withdrawal and therefore do not require treatment with methadone or buprenorphine.
What Should I Do If I'm Addicted to Opioids?
The best, safest thing you can do when you are struggling with a serious opioid addiction syndrome is to seek help. There are many different treatment facilities in Florida where you can find the care you require in a way that is safe, effective, and catered to your needs. If you do not seek treatment for addiction, it will often become worse as well as harder to deal with on your own.
In detox, you will first be weaned off the drug so that you will not experience intense, painful withdrawal symptoms. Afterward, you with require rehab treatment so you can learn to cope with stressors, triggers, and other issues that might lead to relapse. Inpatient and outpatient centers are both available in Florida where you can begin a safe recovery. Afterwards, you may utilize the option of Vivitrol injections in order to fight your cravings and make staying sober easier.
Let Us Help You Find the Care You Need
Call 866-351-3840(Who Answers?) now to speak with a treatment advisor and find the best detox and rehab facilities available for your recovery.