Trump Signs New Bill to Stop Fentanyl Trafficking, Help Opioid Crisis
President Trump recently signed a new bill that will allocate $15 million for new high-tech screening devices that can easily detect fentanyl and other synthetic opioids. Fentanyl is a potent opioid up to 100 times stronger than morphine, and was linked to over 20,000 overdose deaths in 2016. The screening devices will be used at the U.S. border to block fentanyl shipments from China and Mexico, and to help the country curb its opioid crisis.
Passing the Interdict Act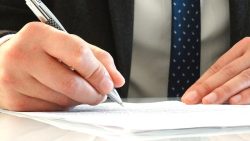 The International Narcotics Trafficking Emergency Response by Detecting Incoming Contraband with Technology Act, or the Interdict Act for short, was initially proposed by Massachusetts Senator Ed Markey in Spring 2017. The bipartisan bill was signed into law by President Trump on Wednesday, Jan. 10 to give the U.S. Customs and Border Patrol $15 million that will be spent on portable and fixed chemical screening devices. The devices have the ability to detect fentanyl without coming into direct contact with the drug.
Some batches of fentanyl entering the U.S. are so strong that animals and people who accidentally inhale the substance are suffering instant overdoses. The portable screening devices will be used at mail consignment facilities and ports of entry at the border, while fixed screening devices will be installed in the agency's labs. A portion of the $15 million will also be used to hire new personnel who can assist in detecting fentanyl and interpreting screening results.
U.S. Rep. Niki Tsongas, the bill's sponsor, says that the Interdict Act recognizes that new technology is required to eliminate 21st century threats of synthetic opioids like fentanyl, and that providing Customs and Border Patrol with new equipment will help eliminate fentanyl from U.S. streets. President Trump adds that the Interdict Act is a significant step forward in the fight against opioids.
The Opioid Crisis is a Public Health Emergency
President Trump declared the opioid crisis a public health emergency on Oct. 26, 2017, which freed up $57,000 in federal funding to fight the epidemic. The 90-day declaration expires on Jan. 23, yet the opioid crisis continues to rage on, and thousands of Americans are continuing to die from drug overdoses caused by deadly substances like fentanyl. But with the recent passing of the Interdict Act, synthetic opioids like fentanyl will become more difficult for Americans to obtain from China, since the new screening devices will stop shipments at the border before they enter the country.
Opioid overdoses killed over 33,000 Americans in 2015, and over 53,000 Americans in 2016. The majority of those overdoses are being caused by fentanyl manufactured in China using a cocktail of dangerous ingredients — many of which China are banning to help the U.S. stop the epidemic. But despite restrictions on ingredients used to make fentanyl, Chinese labs are finding new ways to make fentanyl and are skating around laws to avoid risk of indictment.
Opioid addiction affects millions of Americans, yet only a portion of these individuals are seeking help to become healthier and addiction-free. Heroin, fentanyl, and all other opioids are among the most highly addictive drugs in the world, but getting professional help can prevent an overdose and death.
Treating Opioid Addiction
Opioid dependence and addiction can be safely treated at an opiate detox center using a medical detox or medication-assisted treatment. A medical detox allows patients to overcome opioid dependence in a safe, structured medical environment using medications that relieve drug cravings and eliminate all other withdrawal symptoms. Medication-assisted treatment, or MAT, is a long-term detox program that also uses medications like methadone, buprenorphine, and naltrexone to eliminate cravings and withdrawal symptoms.
A medical detox and MAT are often combined with therapy to help opioid patients also overcome psychological addiction. These treatments are key to overcoming opioid addiction as a whole, and achieving lifelong sobriety from opioids.
If you need help fighting opioid addiction, call our 24/7 confidential helpline immediately at 800-483-2193(Who Answers?). Our addiction specialists will discuss all your treatment options for detox, and help you find the nearest drug detox center ready to help you combat opioid dependence.