Virtual Reality Helps Addiction Patients Stay Sober, Overcome Relapse Triggers
A new therapeutic virtual reality program is being used to help people with substance use disorders avoid relapse and stay engaged with their addiction treatments. Early results show that virtual reality can reduce agitation among addiction patients, and improve their moods to make them more open and susceptible to treatment. Right now, the virtual reality program is being tested on patients at a drug rehab center near Nashville, but could soon be available at other treatment centers if results continue proving successful.
Using Virtual Reality to Stay Sober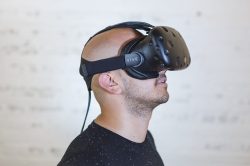 The virtual reality program was created by clinical psychology graduate student Noah Robinson at Vanderbilt University, who wanted to provide a soothing, low-key environment for addiction patients experiencing drug cravings and agitation. Patients who use the virtual reality platform can enter a relaxing, colorful environment while listening to uplifting music, and immerse themselves in a world that helps them escape feelings of stress, frustration, and other negative emotions associated with overcoming addiction. The virtual reality program is available 24/7 for patients at rehab — meaning those who feel an overwhelming urge to use drugs at any time of day can immerse themselves in a more soothing world that helps them cope with triggers.
Patients who use the program can walk into a virtual bar, refuse alcoholic beverages, and ask for water instead. The virtual reality program contains numerous cues and situations that could lead to relapse and drug and alcohol use, and encourages patients to make the right choices for their sobriety. The program also teaches patients how to develop healthy relationships, along with skills that help them manage and regulate their emotions without turning to drugs and alcohol.
Robinson says his virtual reality program has helped 29 of 30 addiction patients improve their moods and gain a better mental outlook about treatment and becoming sober. Robinson is now seeking approval to test the effects of virtual reality on patients going through drug and alcohol detox. Robinson adds that his long-term goal is to make virtual reality available in the homes of patients and in therapy rooms at addiction treatment centers.
Other Effective Ways to Manage Triggers
Some of the most common triggers that lead to addiction relapse are stress, loneliness, and spending time in environments where drugs and alcohol are easily accessible. Most addiction treatment centers use therapies that teach patients how to avoid and cope with triggers so they can stay sober when faced with drugs and alcohol.
Other effective ways to manage triggers:
Turn to your support system. Friends and family can help you stay accountable for your sobriety and support you throughout recovery.
Attend therapy and 12-step meetings regularly. Participating in daily or weekly therapy sessions and AA / NA meetings can give you insight on new ways to manage triggers.
Find new activities to keep you busy. A busy schedule can keep you occupied and distracted from thoughts of using drugs and alcohol.
Develop a relapse prevention plan. A relapse prevention plan is a list of backup plans and excuses you can use to escape situations that expose you to drugs and alcohol.
Practice self-care. Exercising regularly, eating nutritious foods, and getting plenty of sleep are all healthy lifestyle practices that naturally boost your mood and overall well-being to help you stay sober.
How to Overcome Addiction as a Whole
Detox and therapy can help you overcome addiction as a whole both physically and mentally so you face greater odds of staying sober long-term. Detox helps you overcome physical dependence on drugs and alcohol, while therapy teaches you strategies for navigating the world with a positive mindset and avoiding relapse.
When choosing an addiction treatment center, look for facilities that offer detox and a range of therapies such as CBT, group therapy, 12-step meetings, and contingency management. Detox and therapy combined can give you the physical strength and mental clarity you need to successfully fight addiction and stay sober for life.
If you need help fighting addiction, call our 24/7 confidential helpline at 800-483-2193(Who Answers?) to learn more about your available treatment options. Our addiction counselors can answer all your questions about treatment, and help you find a nearby detox center ready to help you become healthier, sober, and addiction-free.