Analyzing Stamp Bags Can Alert Officials to New Deadly Drugs
New evidence shows that analyzing small wax packets containing street drugs can alert officials to new lethal substances causing overdoses in local communities. The wax packets, known as stamp bags, commonly contain drugs like heroin and fentanyl, and can be used to keep law enforcement and first responders in the loop about potent drugs like carfentanil that can instantly trigger an overdose. Researchers say analyzing stamp bags may be a vital way to help curb the nation's opioid crisis.
What Can Stamp Bags Reveal About Local Drug Use Patterns?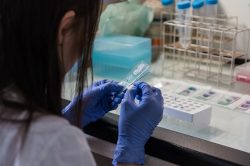 For the new study led by the University of Pittsburgh Graduate School of Public Health, researchers examined stamp bag data compiled by the Allegheny County Office of the Medical Examiner between 2010 and 2016. In Allegheny County, law enforcement seizes all stamp bags as evidence and submits them to the county medical examiner for testing. More than 16,000 stamp bags were tested during that time period.
Before the year 2014, there was no fentanyl detected in any stamp bags, but by 2016, fentanyl was present in 15.5% of stamp bags collected. Of the stamp bags found to contain traces of fentanyl, about 4.1% contained strictly fentanyl, and no other substances.
Fentanyl is now being commonly mixed or cut into street drugs since the drug is often more potent and lower in cost than heroin, cocaine, and methamphetamine. Most users are often unaware they're using fentanyl, and suffer unintentional overdoses. Heroin overdoses have more than quadrupled from 2010 — many of which are being caused by fentanyl mixed into batches of heroin.
Other Ways to Detect Lethal Drugs
Fentanyl has become a serious growing problem in the U.S., with the drug being linked to over 20,000 overdose deaths in 2016. The U.S. government is taking numerous steps to detect and prevent drugs like fentanyl from entering the country and causing unintended overdoses.
For instance, fentanyl testing strips are now being used by harm reduction and healthcare workers in some states to protect heroin users from overdose deaths. These strips will also be available at safe injection sites expected to open soon in cities including Philadelphia, Seattle, and San Francisco. Additionally, President Trump recently signed a bill allocating $15 million for devices that can screen and detect fentanyl at U.S. borders.
If you use heroin, illicit painkillers, cocaine, and other drugs that may contain fentanyl, the safest way to avoid an overdose is to get help at a drug detox center. A drug detox center can help you safely overcome drug dependence so you no longer have to worry about drug cravings and withdrawal symptoms interfering with your ability to stay clean.
Preventing an Overdose with Addiction Treatment
Drug detox centers offer a number of different treatments that can help you safely withdraw from drugs with a lowered risk for adverse side effects such as drug cravings, vomiting, and seizures. Heroin and opioids can be highly difficult to quit using due to the way they change your brain, but detox centers have access to medications that can relieve all your withdrawal symptoms for a more successful, pain-free recovery.
Withdrawing from drugs like heroin on your own can be dangerous and risky, and offers a low success rate in terms of relapse and recovery. Many who try quitting opioids on their own often relapse, and face a higher risk for a fatal drug overdose. But studies show that using drugs like methadone and buprenorphine to overcome opioid dependence can help you stay sober for a longer period of time while reducing your discomfort.
If you need help fighting drug addiction, call our 24/7 confidential helpline at 800-483-2193(Who Answers?) to learn more about your treatment options. Our experienced addiction counselors will discuss available detox treatments, and help you find the nearest drug detox center in your neighborhood devoted to helping you achieve improved health and lifelong sobriety.