Injectable Biosensor Chip Can Monitor Alcohol Levels in Recovering Addiction Patients
Engineers at the University of California San Diego have created a tiny injectable biosensor chip that can detect whether patients in recovery from alcohol addiction have relapsed and consumed any alcohol. The device is intended to make it easier for alcohol recovery patients to stick to their treatment regimen and deters them from drinking alcohol. If future experiments show that the chip can be safely implanted and used in humans with no adverse effects, the device could soon be rolled out to a number of addiction treatment centers.
How Does the Alcohol Monitoring Chip Work?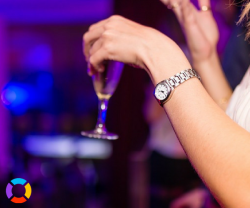 The tiny biosensor chip measures about one cubic millimeter in size, and can be implanted in the body just below the skin's surface in interstitial fluid, which is the fluid that surrounds cells. The chip has a sensor coated with an enzyme that generates a byproduct when alcohol is detected in the patient's bloodstream. When people injected with the chip drink alcohol, the chip sends an alert to a remote wearable device like a smartwatch.
Work on the biosensor chip is being funded by the National Institute of Drug Abuse, which awarded the UC San Diego with a $235,000 grant for the project. So far, the chip has only been tested in a setup that mimics an implanted environment in the human body, but has yet to be tested in actual humans.
How Will the Biosensor Chip Help Addiction Recovery Patients?
Just like with diabetes, asthma, and other chronic relapsing diseases, addiction has a relatively high relapse rate of between 40 and 60%. People in recovery from alcohol addiction usually receive therapy to help them identify and overcome common triggers that can cause them to relapse. The biosensor chip can be used as another tool in addiction treatment to help patients stay sober and avoid relapse.
Injectable sensors would be difficult for patients to remove on their own since the devices are implanted under the skin and reside next to blood vessels. Existing methods for alcohol monitoring are often easily manipulated by patients in recovery, and pose a number of challenges for treatment providers as a result. For instance, breathalyzers require patients to initiate use and don't always provide accurate results, while blood tests can only be administered by trained medical staff. Tattoo-based alcohol sensors are also in development for alcohol recovery patients, but can easily be removed from the skin and used only one time.
Dr. Carla Marienfeld, an addiction psychiatrist at UC San Diego, says the biosensor chip will likely reduce the need for inpatient and residential alcohol treatments, which can be costly for many patients recovering from alcohol addiction. But the chips provide treatment 24 hours per day, and offer a level of care that isn't available with current treatments. Marienfeld says she hopes the chip will soon join the ranks of other proven evidence-based treatments for alcohol addiction.
Tips for Avoiding Alcohol Relapse
Though alcohol relapse is common among patients in recovery, there are many effective ways to lower one's risk and stay sober long-term. Many addiction treatment centers use therapies that teach patients how to overcome urges to drink when faced with certain triggers. Relapse prevention training, cognitive-behavioral therapy, 12-step groups, group therapy, and dialectical behavior therapy are all therapies that can help patients experience a safe, sober recovery and lower their relapse risk.
Other strategies that can help lower the risk for alcohol relapse:
Identify personal triggers and high-risk situations that can cause relapse, and develop your own coping responses.
Build a solid support team comprised of friends, family, peers in support groups, and trained counselors who can encourage and influence you to stay sober.
Find new healthy ways to manage stress that don't involve drinking alcohol, such as exercising daily, eating nutritious foods, and meditating.
Discover new fun hobbies and activities that can take up all the time you previously spent obtaining and using alcohol and recovering from its effects.
If you or a loved one is struggling with alcohol addiction and needs help achieving sobriety, call our 24/7 confidential helpline at 800-483-2193(Who Answers?) to discuss your treatment options with an addiction counselor. We'll perform a free insurance benefits check, and help you find the nearest drug detox center ready to help you achieve sobriety and lower your relapse risk.