New Bath Salts Vaccine Blocks the Drug's Effects to Reduce Abuse
Scientists from the University of Arkansas for Medical Science have developed a new vaccine that blocks the effects of bath salts, also known as synthetic cathinones. People who receive the vaccine will not experience adverse effects like organ failure or any "rewarding" effects like euphoria when using bath salts. The new vaccine is designed to prevent relapse and promote long-term sobriety among those recovering from bath salt abuse.
How Does the Vaccine Work Against Bath Salt Abuse?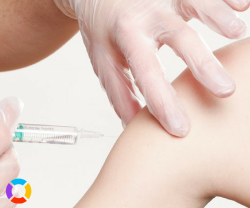 Bath salts are man-made synthetic drugs that mimic cathinones — natural substances in the khat plant native to parts of East Africa and South Arabia. The new vaccine works by targeting two highly potent synthetic cathinones known as MDPV and alpha-PVP commonly found in many bath salts. In clinical trials, rats that received the vaccine produced high amounts of antibodies that attached to these cathinones in the bloodstream — triggering an immune system response that decreased the effects of bath salts for up to several months.
The goal of the vaccine is to help bath salts users stay sober as they recover from bath salt abuse, dependence, and addiction. People who receive the vaccine and who try using bath salts will not experience any of the drug's effects — making bath salts useless and ineffective for those individuals. Senior study author Samantha McClenahan says the goal is to develop a vaccine that works for between six and 12 months so people recovering from bath salts abuse can face better odds of staying sober long-term.
McClenahan and team recently presented their research on the bath salts vaccine at the 2018 Experimental Biology meeting in San Diego. The scientists plan on submitting their study to a peer-reviewed journal and will continue testing the vaccine's ability to prevent MDPV from entering the brain and heart.
What Are the Dangers of Bath Salt Use?
People who have access to khat in other parts of the world sometimes chew khat leaves to benefit from the plant's mildly stimulating effects. But synthetic cathinones that mimic khat are often much more potent and dangerous given the drugs are comprised entirely of man-made chemicals and substances. Bath salts produce many of the same effects as stimulants like cocaine and methamphetamine, but the drugs are classified as "new psychoactive substances" that remain unregulated and have no legitimate medical use.
The effects of bath salts include euphoria, rapid heart rate, loss of appetite, hallucinations, paranoia, and extreme agitation and violent behavior. Studies show that bath salts containing MDPV can affect the brain in ways similar to cocaine, but produce effects that are at least 10 times more powerful. Other dangerous effects of bath salts include chest pain, dehydration, and kidney failure, as well as physical dependence and addiction.
How to Recover from Bath Salt Abuse
Those who abuse bath salts can become tolerant to the drug and experience strong urges to continue using this dangerous synthetic substance. People who try to stop using bath salts after becoming physically dependent tend to suffer withdrawal symptoms that include anxiety, depression, insomnia, tremors, and paranoia. Fortunately, bath salt abuse can be safely treated using drug detox and therapy.
People recovering from bath salt abuse may receive medications to help them manage certain withdrawal symptoms, such as sleep aids to treat insomnia and antidepressants to help with depression. Following drug detox, behavioral therapies such as cognitive behavioral therapy and motivational enhancement are used to treat the psychological components of bath salt addiction.
If you or a loved one needs help recovering from bath salt abuse, call our 24/7 confidential helpline at 800-483-2193(Who Answers?) to discuss your treatment options with an addiction counselor. Detox.com will perform a free insurance benefits check, and find the nearest drug detox center staffed with trained nurses and doctors devoted to helping you safely and fully overcome bath salt addiction.