Algorithm Improves Structure of Group Therapy for Drug Addiction
Researchers have developed a new algorithm that can be used to sort addiction patients into small groups for therapy meant to promote healthier social connections between participants. Many times, low-risk patients in group therapy are lumped into groups with high-risk individuals who practice negative behaviors that encourage relapse. But the new algorithm is designed to expose each patient to a group that can enhance and accelerate their own recovery from addiction.
Using Algorithms for a Better Treatment Outcome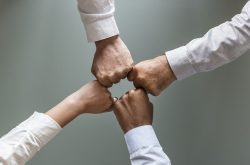 The algorithm, which was developed by researchers at the USC Center for Artificial Intelligence in Society, is designed to maintain and build helpful social connections in recovery, and to break negative social connections that may interfere with recovery. For instance, homeless youth who struggle with addiction often exhibit negative behaviors that can influence impressionable youth to follow suit, and worsen their problems with addiction.
Therapists say that groups that aren't structured properly in therapy can encourage the formation of friendships based on antisocial behavior — a process known as "deviancy training." But the new algorithm looks at the background of each individual patient in terms of social ties and history of drug abuse, and assigns each person to a group that can benefit them most for recovery.
Lead study author Aida Rahmattalabi says drug abuse is highly affected by social influence and environment, and that the new algorithm can help therapists and social workers better understand how people in groups influence one another. The algorithm has shown researchers that low-risk individuals fare better with recovery when separated from high-risk individuals that can negatively influence their behaviors.
New data will continue to be added to the algorithm over the following months, and may be rolled out to a higher number of group therapy programs in Denver, Colorado by the end of fall 2018.
Benefits of Group Therapy for Addiction Recovery
Group therapy for addiction can encourage patients to share their experiences, build healthy social networks, and learn positive ways to avoid and manage triggers. The goal of group therapy is to help patients gain a deeper understanding of their drug use disorders, while helping themselves and others in the group recover from addiction. Group therapy allows patients to speak freely about their struggles with addiction without being judged, and helps them tackle old problems with new perspective.
Group therapy for addiction is often easily accessible, and offered as part of many inpatient and outpatient addiction recovery programs. Group therapy promotes companionship and open communication, and can offer great insight for those who need new strategies for staying sober and avoiding relapse. Those who need a strong social support team can benefit from group therapy in that it gives them access to other like-minded individuals also working toward achieving lifelong sobriety.
Where to Find Help for Addiction
If you or a loved one needs help fighting addiction, understand you're not alone, and that many others are researching treatment options to become healthier and addiction-free. Use our detox center directory to locate nearby drug and alcohol detox centers, and to learn more about available therapies. Substance use disorders can be effectively treated as a whole using detox and therapy — including group therapy.
Call our 24/7 confidential helpline at 800-483-2193(Who Answers?) to speak with a caring addiction counselor and learn more about your treatment options. We'll help you find a recovery center that offers all the treatments and programs you or your loved one needs to become healthier, sober, and drug-free.