Study: Medical Marijuana Users are More Likely to Abuse Prescription Drugs
A number of recent reports suggest that rates of opioid addiction and overdose deaths tend to be lower in states where medical marijuana is legalized. But a new study argues that medical marijuana users actually have higher rates of non-medical prescription drug use than their non-marijuana-using counterparts.
So does medical marijuana use increase or decrease prescription drug use? Here's a closer look at what scientists learned in this latest study.
Rates of Prescription Drug Abuse Among Medical Marijuana Users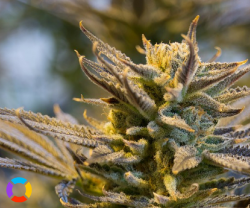 For the new study published in the latest issue of the Journal of Addiction Medicine, researchers examined over 57,000 responses to the 2015 National Survey on Drug Use and Health. Of that group, there were 776 people, or 1.4% who used medical marijuana. The survey data revealed that medical marijuana users are more than twice as likely to misuse prescription drugs including opioids, stimulants, and benzodiazepines.
Researchers found that higher levels of prescription drug abuse by medical marijuana users were even consistent among those who were already using prescription drugs — indicating that higher levels of prescription drug abuse among this population was not necessarily due to having a medical condition or greater access to these drugs.
Study author Theodore L. Caputi says recent reports conducted on the link between medical marijuana legalization and low opioid overdose rates have falsely led many Americans to believe that medical marijuana is a protective factor against prescription drug abuse. However, this perception is false when looking at rates of use for these substances on an individual level, since evidence suggests medical marijuana use is positively associated with higher rates of prescription drug abuse.
Why Would Medical Marijuana Users Abuse Prescription Drugs?
Caputi says his team's findings do not reveal a cause-and-effect link between medical marijuana and prescription opioid abuse, but do suggest that doctors could start using medical marijuana as a risk factor for prescription drug abuse. Another doctor named Marcus A. Bachhuber who was not involved with the study argues that medical marijuana does not increase opioid use, especially since medical marijuana can effectively treat chronic pain — the most commonly cited reason for medical marijuana use. Why would medical marijuana users abuse prescription drugs if marijuana can effectively treat their health condition?
Though marijuana is legalized in many states, the drug remains illegal on a federal level and is classified a Schedule I drug with no accepted medical use. A number of studies suggest that marijuana is a gateway drug that can lead to the use of other more addictive substances. Evidence also suggests that many people who are open to using marijuana may also be open to the idea of using prescription drugs and other substances for non-medical reasons.
Another hypothesis as to why medical marijuana users abuse prescription drugs is that these users may have been suffering addiction to certain prescription drugs before using medical marijuana. Prescription drugs including opioids, stimulants, and benzodiazepines all carry a high risk for abuse — meaning those who use these drugs may be unable to stop using them on behalf of dependence and addiction.
Safe Treatments for Prescription Drug Addiction
Prescription drug addiction can be safely treated at a drug detox center using a medical detox or medication-assisted treatment. These detox treatments allow patients to overcome physical dependence on prescription drugs with a reduced risk for complications, and with less pain and discomfort.
Those who suffer from opioid addiction can replace the opioid of abuse with FDA-approved medications that reduce and eliminate withdrawal symptoms — a detox method known as medication-assisted treatment. For instance, a person addicted to oxycodone can replace this drug with methadone, and gradually come off oxycodone without experiencing drug cravings and other symptoms.
Addiction to drugs like ADHD medications and benzodiazepines is usually treated using a tapering schedule, which is where patients work closely with doctors to reduce their doses of these drugs gradually over time until they're no longer using the medication. Tapering is usually part of a medical detox regime, which can be safely conducted at an inpatient or outpatient drug detox center.
Ready to begin your recovery journey? Call 866-351-3840(Who Answers?) to learn about available treatment programs for drug and alcohol addiction.