10 New Detox Beds to Be Added to Saranac Lake Facility
A treatment facility in Saranac Lake, New York is planning to add 10 new beds for individuals detoxing from substance abuse. The CEO of St. Joseph's Bob Ross says he wants his facility to feel like home for those who come seeking treatment. "Our mission," he says, "is to find the most needy individuals and families who are suffering from addiction and provide services for them."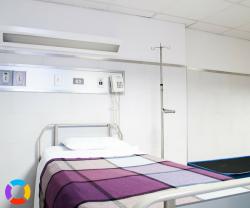 The treatment center has several other locations in North Country and most of these provide inpatient services. Unfortunately, though, there is a severe lack of detoxification facilities, not to mention beds, for those going through heroin or opioid withdrawal in the New York State area. According to Ross, many people drive to Albany for this care, but by the end of the year, he hopes St. Joseph's will be able to help more people suffering from withdrawal.
A new facility will open up near the main St. Joseph's campus, and this will provide 10 beds for individuals in withdrawal and a crisis intervention center that will be open 24 hours a day. Afterward, these individuals can seek help at the main facility for rehab treatment. "That means that there's less likelihood that their treatment falls between the cracks," says Ross.
Why Do People Need Detox Treatment for Opioid Addiction?
Ross stated that about 97 percent of the admissions he received in 2017 were suffering from opioid addiction. While these numbers are staggering, many people still don't know what the main treatment options for this disorder are, let alone why people need them.
People recovering from opioid addiction often need to begin with detox treatment.

This is because detox helps manage the severe withdrawal symptoms associated with opioids, which can become so painful, many people actually return to using just to make them stop (National Library of Medicine).
Instead, when these individuals are treated with medications and monitored by doctors and nurses during the process, there is a much greater chance that they will be able to navigate withdrawal safely and not relapse.

Also, people who seek detox treatment in a professional facility are more likely to seek out addiction treatment afterward, especially when they are helped to do so by the people running the facility.

This is what Ross means when he talks about people not slipping through the cracks during treatment.

Finally, detox is necessary because it is unfair to ask recovering people to go through the process of withdrawal without help, especially as the result of opioid withdrawal.

The symptoms are incredibly painful, and people in this situation often have a low tolerance for pain, making the experience a kind of torture that is unnecessary and unkind (Substance Abuse and Mental Health Services Administration).
Making a person sweat it out or go cold turkey during withdrawal won't make them more likely to stay sober in the future and it only breeds needless suffering.
Remember, after detox ends, rehab is the next step you must take in order to recover safely from opioid addiction.
Getting the Help You Need
We are available 24/7 to take your call and help you find local detox and rehab centers that will give you the best care possible. Call 866-351-3840(Who Answers?) today.