Former Basketball Player Builds Wellness Center in Massachusetts
Chris Herren, a former NBA player and motivational speaker, has opened his first wellness center in March of 2018. The center is in Seekonk, Massachusetts and will offer a place for people who are recovering from addiction to strengthen their recoveries and stay healthy.
Herren states that, although there are options for those who need treatment for addiction, "there are few programs dedicated to the prevention of these disorders or helping those in recovery seeking to experience the fullness of a new life." The program, called Herren Wellness at Jacob Hill, will do just that. The facility opened its doors on March 5.
The program is holistic and offers options like acupuncture, yoga, mindfulness, sleep monitoring, nutritional guidance, and many others. Guests will be invited to stay at the facility for any amount of time between 30 days and 6 months. Some of the options for fitness at the facility include tennis, swimming, and walking, not to mention the on-site fitness center.
What Is Holistic Treatment for Addiction?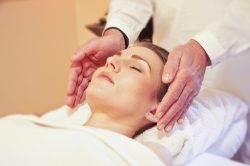 Holistic treatment is an option for addiction recovery that focuses mostly on full-body wellness. As opposed to traditional medicine, which may put a stronger focus on treating specific symptoms or issues, holistic treatment is meant to heal the entire individual. This is why options like meditation, yoga, acupuncture, and other non-traditional programs are available in holistic wellness centers.
According to a study published in the Journal of Psychoactive Drugs, holistic programs can be very beneficial for recovering individuals, as they can allow the patient to develop stronger concepts of self-esteem, self-confidence, and identity.
These programs can also help people who are uncomfortable with traditional medicine such as talk therapy or medication. For example, art therapy can be a beneficial choice for those who cannot talk out their feelings yet.
Holistic programs offer patients a safe way to explore different options for recovery, allowing them to consider choices for treatment based on what makes them feel the most comfortable.
Of course, holistic programs should never be used completely in lieu of traditional medicine, but it can be an extremely helpful option.
Do People in Recovery Still Need Help?
Yes. Herren is correct in saying that people who are recovering from substance abuse and who have already been through traditional treatment still require help. These can be found in the form of aftercare, which offers people other options after treatment has ended. This is what Herren Wellness at Jacob Hill hopes to provide.
People who are going through recovery aren't considered to be cured of their addictions, which is why they will often still need help after traditional treatment. Programs like these provide another layer of protection from relapse and a considerable amount of community support, which is essential to a safe recovery (Substance Abuse and Mental Health Services Administration).
Looking for a Place Where You Can Find Addiction Help?
Call 800-996-6135(Who Answers?) to learn about the detox and rehab centers near you. Our treatment advisors are always available to help you choose the best program for your current needs.