Police Save Man's Life Using Narcan
For the first time in Marietta, Georgia, police officers have reported using Narcan, the opioid overdose reversal drug, to save a person's life. Officer Jennifer Bostwick was working early Monday, March 19, 2018 when a driver nearly hit her car as he blew through a red light. The driver then got out of his car, flagged Bostwick down, and told her his brother had overdosed on heroin. He said his brother had snorted the drug, an act which can quickly cause an intense amount of heroin to reach the brain and body, creating extremely slowed breathing.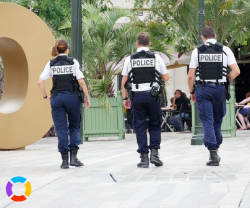 Officer Bostwick called backup, and Narcan nasal spray was administered to reverse the effects of the heroin. Because of an amnesty law for those who are seeking help from first responders for an overdose situation, neither than man nor his brother were arrested for any crime, nor will charges be filed at a later time.
Officer Chuck McPhilamy, the department's spokesperson, said, "We're not here to persecute someone who has an addiction, but if we can help them in that moment, that's what we want to do."
Is Narcan Addictive?
Naloxone (brand name Narcan) is a drug that can reverse the effects of an opioid overdose almost instantaneously. According to the National Library of Medicine, it is available as an injection drug and a nasal spray. Naloxone itself is not addictive because it does not cause the euphoria other drugs (like opioids) cause to trick the brain into using more. When Narcan is administered, it can be painful, as it will reverse the pain-relieving effects of the opioid drug, but the experience is absolutely favorable to the deadly results opioid overdoses can cause.
What Happens After an Opioid Overdose?
If a person overdoses on opioid drugs and is administered Narcan, they will still need to be taken to the hospital immediately. This is because they will likely be in pain as well as still experiencing other side effects from the drug. Also, the Narcan could potentially wear off and the individual may require another dose.
After this, treatment is necessary in most cases, as those who overdose on opioids are usually chronic users in need of rehab.
Detox can be the first step of addiction treatment. This is where the individual will go through managed withdrawal and safely stop their abuse of opioids.
Afterward, rehab will allow the individual to learn the skills they will need to avoid relapsing in the future.
Finally, many individuals require aftercare once rehab has ended, sometimes in the form of additional treatment programs (National Institute on Drug Abuse).
Every recovering individual is different, but in most cases, this is the trajectory of treatment that will help someone who has overdosed stop using opioids and begin to heal.
Need Help Finding Safe, Effective Treatment?
Whether you or someone you love is looking for addiction treatment and recovery help, we can assist you in finding the right local detox and rehab facilities for your needs. Just call 800-483-2193(Who Answers?) today to speak with a treatment advisor.